Posted by Suijen, Jul 17 2010, 12:44 AM in Game Reviews
I was supposed to get around reviewing Neverwinter Nights, but it looks like it'll be put on hold as I review Mass Effect. I'll quickly list out the pros and cons of Neverwinter before going on though. Pros:


Much more animated combat, especially with magic
Excellent customization in terms of character builds and through the NWN editor
Excellent mods
Cons:
Ridiculously game-stopping and out of place puzzles
Character animations still a little bit stiff
Lackluster NPCs, especially the ones before Hordes of the Underdark expansion
Overall, I would have given Hordes of the Underdark 9/10, with the rest of the beginning game series 8/10. Mass Effect seems to get the pros and cons flipped over; Mass Effect only has one ridiculous puzzle, but the character animations are much more fluid and combat much more dynamic. The NPCs in Mass Effect are the most believable and "human" NPCs I've ever encountered in a RPG, but Mass Effect is very restricted in terms of character builds and mod customization.
Premise
Mass Effect is Bioware's relatively new RPG that continues Bioware's tradition of excellent storytelling and moving RPG action. The game seems to borrow a lot from Knights of the Old Republic (Three man teams, pausable gameplay, space theme, etc), but the game takes place in a sci-fi universe that Bioware developed by itself rather than from using a license like it did with KOTOR or Neverwinter. The game is best descibed as half an action-game, and half an RPG, as combat is primarily in a third person shooter, with the character actually having to aim rather than select targets.
Gameplay
The game first starts you off by allowing you to choose a gender. After which, you can choose a background for your character with up to 9 possible combinations. I greatly appreciated this, as the game constantly brings up these points in the story, which I find very immersing, so thumbs up to Bioware there. After, you're allowed to choose from a handful of builds, such as a soldier build, a sniper build, a Biotic build, etc. However, your character cannot in anyway escape that build; there are no multiclass options, and you're restricted to developing traits and skills of only that specific build. If you're a soldier, you have extremely limited Biotic skills and cannot learn them. If you're a sniper, then you can forget about being able to hold a shotgun worth a damn. If you're a Biotic, you can't do anything except for biotic skills. I found this very restricting, especially compared to Bioware's earlier title Neverwinter Nights, which allowed you a rich level of customization. Bioware should develop this more. Finally, you're given the option to create your own ugly avatar like in Oblivion and Fallout 3. Not surprisingly, you'll probably often wonder if you can change your avatar's face. You can't.
A dozen skills to choose from, but not-being-ugly is not one of those skills.
Afterwhich, you are thrown into the Mass Effect world, a stunning and surprisingly well developed universe. The game codex describes everything about the universe, from the technology used in their firearms to how ships achieve Faster-than-Light travel. Even why the aliens all speak English is properly and believably explained. The many different planets of the galaxy all have descriptions detailing their gravities, sizes, primary elements, populations, and histories. Many players will probably gloss over this, but I found the development of the Mass Effect universe striking and the lore rich. Bioware only needs to develop more alien races and expand on their cultures more, but otherwise it's satisfactory. I can imagine that the sequel will probably further expand on the universe.
The Mass Effect world obviously requires proper narration to be brought to life, and in this respect Bioware succeeds tremendously. The voice acting is without a doubt excellent, both from primary characters and from secondary characters. The story is okay; it doesn't really pull you as much as Knights of the Old Republic did. But while the central plot is a bit steamlined, the way it's paced is well done. After completing each essential mission, the story unravels like a piece of the puzzle until it all successfully comes together. In contrast to the dullards in Neverwinter Nights or cry-your-life-story teammates in Neverwinter Nights, your teammates in Mass Effect have more developed and distinct personalities and backstories, making them feel more approachable and human despite their not being so.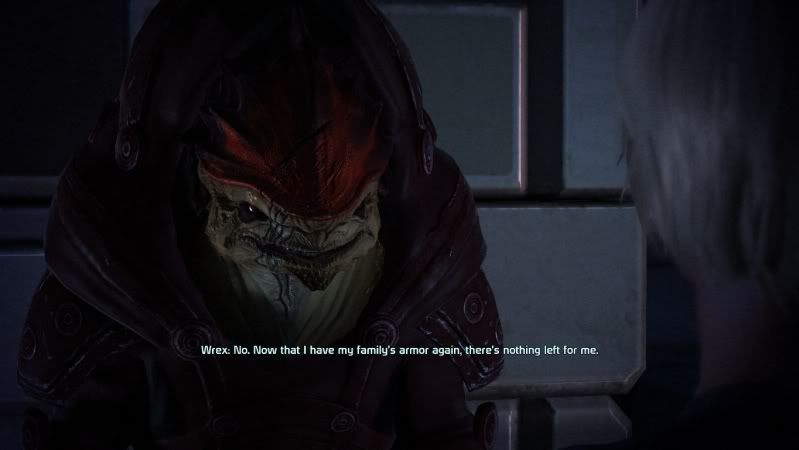 Impressively ugly, but I've seen worse in McDonalds.
Character development in Mass Effect is both hit and miss. The hit is that Mass Effects offers much better moral choice options than even Fallout 3. The line between right and wrong is clearly blurred, and you'll find yourself making a number of tough calls. Should you let a terrorist go in order to save hostages? Should you let a nearly extinct species go, even though its ancestors waged war against your people? These are the moral choice questions that RPGs should be asking, ones that don't have a simple yes or no answer. Though this aspect of the choice is excellent, it's actually also quite stifling. In the end, the choices fall between being somewhat optimistic and compassionate, or between ruthlessly effective and machiavellan...and that's all there is. Thus, your character is either a badass marine with a modicum of compassion, or a badass marine who needs to get the job done. You can't even choose any goofy options like you could in Knights of the Old Republic, nor any truly evil options, so you're effectively being limited to choosing between two different personalities. From what I've seen, choosing one or the other has not affected my gameplay in any obvious way except for making one Paragon or one Renegade meter fill up.
Combat in Mass Effect is satisfying, but there was a steep learning curve for me. I started out with a sniper character, but in the beginning the sniper rifle was very difficult and unsteady to use, even when crouched. Pressisng space, which brought out the squad menu, brings out a dizzying array of information that made me wonder if this was essential or just bull$hit. Squad commands in the game are simple like in Star Wars: Republic Commando, with your being able to tell the squad to hold, advance, focus fire and cover you. It wasn't until the end of the game that I truly felt that I had a solid grasp on the controls, and could manuver my me and my team effectively; until then I was kinda bumbling about the combat aspect of the game pointing and shooting everything to death. One extremely annoying aspect of the game is the inventory management system, which is just fu-king horrible. You get a whole bunch of crap in the game, and sorting them out is a royal mess, as the filtering system is too basic. For example, you can filter between guns and shotguns (okay), but what about all the damn gun models that you have? I would be selling items to see a Firestorm VIII up on top and then further down I'd find ANOTHER Firestorm VIII or a Firestorm VII or Firestorm IX. What the hell Bioware? And when you add in the huge variety of weapon mods, it doesn't really help when four Polonium VII mods are 30 paces away from five Polonium VIII mods. Jesus. And when you hit the stores, you can only buy items for characters in your immediate party, so if you're going to be purchasing items for all your teammates, you'd better have a good memory of their current gear or you're going to be buying redundant or inferior gear...that, or run all the way back to your ship to get your party members. Terrible. Oh, and your characters run kinda slowly, and there's no way to change that.
Don't look here, the screenshot needs no explanation
The last and final gripe I have with Mass Effect is it's sidegame, which you will see a lot. When you explore worlds, and land down on them, you'll land down on an armed vehicle called the Mako. In these missions (a lot of them), you can go exploring for minerals and artifacts, but piloting the Mako is medicre and best annoying at worse. All the worlds (ALL OF THEM), are mountainous, and the only thing really different about them is the terrain skin; everything else is essentially the same. The Mako can crawl up some mountains but not others, often leading your Mako to plummet down hundreds of meters to restart the climb all over again. And you have to scale the mountains in order to get to the artifact/resource that's only worth money or experience, which is really boring. So you can imagine the repetition from leading a vehicle through annoying mountains to get to so-so resources through more or less the same environment. You can't help but think that if all the planets were flat then your job would be a lot easier and you wouldn't miss the change at all. In all honesty, Bioware really needed to come up with a better minigame, because this is bleh at best. At worse, it tends to mess up the flow of gameplay, as you'll spend far too much time romping about in this vehicles than actually shooting anything. I think I spent at least half of the game doing this repetitive crap than the fun mission levels, and when half of the game is this lame, the full game takes a hit.
System Performance
I ran Mass Effect on my laptop at max settings with 1366x768 resolution. The game doesn't support Anti-Aliasing, but when playing the game I averaged from high 30s to low 40s, so it's more or less smooth on my
Core i5-430m/ATI Mobility 5650/2 GB 1066 memory/Windows 7
The game's minimum system requirements are:
2.4+ GHz Intel; 2.0+ Ghz AMD1 GB (XP), 2 GB (Vista)NVIDIA GeForce 6800 GT or higher, ATI X1300 XT or higher
Recommended requirements are:
2.6+ GHz Intel; 2.4+ Ghz AMD2 GBNVIDIA GeForce 7900 GTX or higher, ATI X1800 XL or higher
Both require 12 GB of space and internet activation.
There is no demo for Mass Effect, but there is a demo for Mass Effect 2 though. You can try that and if that runs smoothly, chances are Mass Effect 1 will also.
http://www.filefront.com/listing/pub2/Mass.../Official-Demos
Bugs/Value/Mods/Etc
When I was playing the game, my notebook frequently shut down, but I suspect that it was due to overheating and not to software problems, as when I was playing in a cooler room, I noticed no automatic shut downs. My character got stuck on something two or three times during the game, and I had to restart, but there was nothing to really pop my lid about. Overall, with the latest patch, it's what I can consider more or less acceptable. I found no mods for the game, and I don't think Bioware put out an editor for the game. I purchased the game for about $16 on amazon.com, but the price is $18 or so now. Will Mass Effect 2 recently released, the price of Mass Effect should plummet. Overall, I think it was worth the cost.
Overall Score9/10
The game came close to 10/10 but it brought down thanks to its annoying inventory management system and its mediocre and repetitive sidegame, but Mass Effect still left a pretty deep impression on me. The story is well paced, the NPCs and game universe well developed, and the combat satisfying if not a bit messy. It really is a successful blend of action and RPG elements, with exceptional voice acting and stellar moral choice options.  Take out the two negatives and this game deserves an easy 10.   
Comments