http://ki-media.blogspot.com/search/label/Khmer%20Krom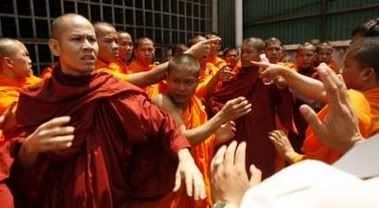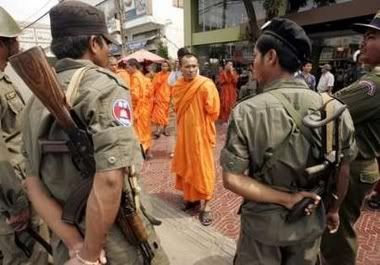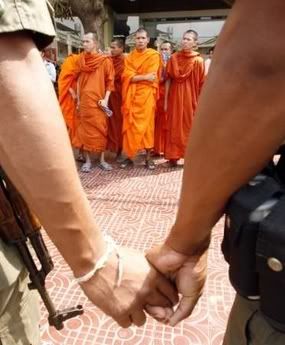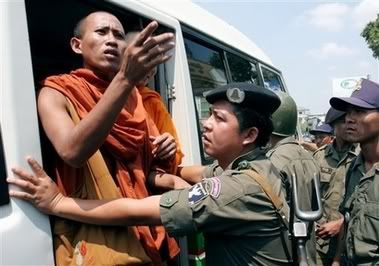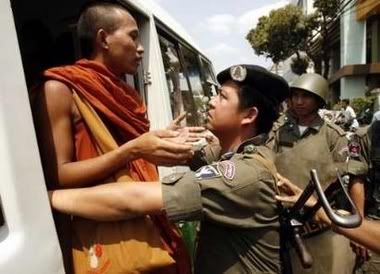 http://ki-media.blogspot.com/search/label/Khmer%20Krom
QUOTE
http://www.stuff.co.nz/3976467a12.html
Wednesday, 28 February 2007
PHNOM PENH: Fifty Cambodian Buddhist monks protested outside the Vietnamese embassy on Tuesday, calling on the communist-run nation's visiting president, Nguyen Minh Triet, to allow greater freedom of religion.
More than 100 riot police armed with electric-shock batons and AK-47 rifles lined up outside the embassy as officials tried to persuade the saffron-robed monks to leave.
The protesters said police in southern Vietnam had recently arrested and disrobed nine ethnic Cambodian Buddhist monks.
"We want the Vietnamese authorities to give them the right to practice Buddhism," one of the monks, Hol Pirom, said.
Triet was due to meet King Norodom Sihamoni on Tuesday at the start of a two-day state visit to its Southeast Asian neighbour.
He will also hold talks with Prime Minister Hun Sen, a former Khmer Rouge guerrilla who fled to Vietnam in the late 1970s before returning with the 1979 invasion that brought an end to Pol Pot's four-year reign of terror.
Appointed prime minister of the Hanoi-backed regime in 1985, Hun Sen has been criticised frequently by nationalists as being pro-Vietnamese. However, he says he is merely normalising relations with one his country's most important trading partners.
Vietnam denies accusations by international human rights groups that it represses human rights and religious freedoms. The government has an official policy of a citizen's rights to "belief or non-belief".