Duma Riris Silalahi is the 1st runner-up Puteri Indonesia 2007, and she'll be joining the Miss International Beauty Pageant will be held at the Venetian Macau Resort Hotel in Macau on November 8th.
Duma Riris Silalahi (North Sumatra)
Born: 20 Sept 1983
Winner of Wajah Femina 2006
Runner-up Puteri Indonesia 2007 (the winner was our unnie/mbak Raema who joined Miss Universe 2008)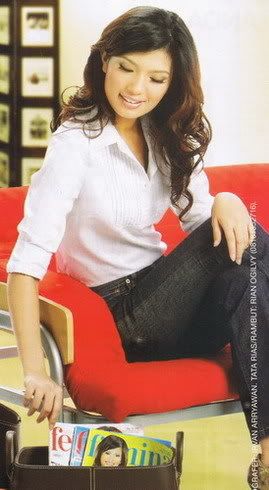 From:
http://missosology.org/forum/
MISS INTERNATIONAL 2008 SPOTLIGHT 7
INDONESIA- DUMA RIRIS SILALAHI
If I am asked for my best three in the Far East it has to be China, Philippines and Indonesia. The last one has definitely the it factor and is a great contender for the crown. Duma to me is like a breath of fresh air. If she never enters the semis then I would be greatly disappointed. I think itís time that Indonesia be given what is due to its queens.
The first time I saw her pictures I already noticed a potential winner there. Her smile is infectious that you could hardly deny to be charmed and hypnotized. She too has enticing eyes which I like the most. She really has a beautiful face.
She never fails to impress me and the more I see some of her candid pictures the more I fell in love with her. Moreover, she reminds me of a precious pearl hidden beneath the deep ocean of the pacific. So rare and so enticing Ö yet evidently present at all times.
With that outstanding beauty and charm she will definitely be in the top 12. And it would be a beautiful surprise if she sneak in the top three and eventually win the coveted title. Her beauty is worth commending and I hope to see this same face in Miss Universe or Miss World pageant. If she isnít bound to win in MI then she should be sent to other grand slam pageants.
Well, a potential MI is just around the corner and is dazzling day by day. I thought that she would make a very beautiful Miss International. I have high hopes for Duma since Indonesia has never been blessed with a Miss International winner.
However, in 1977 the dusky Indri Soeharto almost won the ultimate crown by placing 2nd runner-up to Spainís Pilar Medina Canadell. And she was not just lucky enough to surpass Germanyís stunner in the person of Dagmar Gabriele Winkler who was a non- finalist in MU 73 in Greece but went on to place 2nd RU in World 77 and a year after was proclaimed 1st RU in Miss Europe 1978. Back to Indonesia, Indriís incredible performance was only to be savored the second time only after 30 years. This country has participated for 9 editions only. Thought it was almost present during the 60ís and the 70ís it was never to be participated again for almost 30 years; and it was only in 2007 that Indonesia sent a candidate again to this pageant. Thanks to the beautiful Rahma Landy Indonesia managed to sneak in the top 12 during the final night.
INDONESIA
1960 - Wiana Sulastini
1968 - Sylvia Taliwongso
1969 - Irma Hardisurya
1970 - Louise Maengkom
1974 - Lydia Arlini Wahab
1975 - Yayuk Rahayu Sosiawati
1976 - Treesye Ratri Astuti
1977 - Indri Hapsari Soeharto (3)
2007 - Rahma Landy (SF)
Although, most of the European bombshells in MI 2008 have captivated my heart I have reserved a place for this striking and elegant lady from Asia. Indonesia for sure will be seeing a beautiful Indonesian crowned Miss International in a few months to come, only if she will not be shortchanged in the final night
I dare say Maricris and Fei have a competition here. They better watch out from the beautiful DUMA RIRIS SILALAHI.
***
I love Duma! You go girl!