QUOTE
Indian tribe's 'Avatar' victory over UK mining giant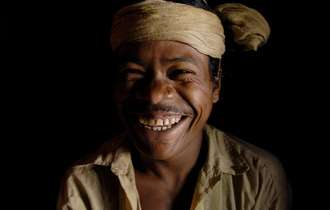 New Delhi, India (CNN) --
It has been dubbed India's version of the Hollywood blockbuster "Avatar." And just like the movie, the indigenous group fighting to save its sacred homeland has won a major fight.
A plan by British mining giant Vedanta Resources to dig in the mineral-rich eastern state of Orissa has stalled.
Environment authorities on Tuesday rejected proposals to mine the mountain, saying any such activity in that area would jeopardize livelihoods of tribes.
"If mining is permitted on this site, it will not only be illegal, but it will also destroy one of the most sacred sites of the Kondh Primitive Tribal Groups," the Ministry of Environment and Forests said.
The multi-billion project has come under scrutiny as advocacy groups, such as Survival International and Amnesty International, likened the Dongria Kondh tribe to the Na'vi from James Cameron's film.
"This is the real Avatar," reads one of Survival International's campaign posters.
For years, the 8,000-person indigenous community has been fighting to defend the Niyamgiri Hills, which it considers sacred.
The Niyamgiri Hills contain some 72 million tons of bauxite, which Vedanta was planning to extract for its aluminum refinery located nearby.
Several calls to Vedanta were not returned.
Earlier this month the company announced that it had invested in Indian oil-gas company Cairn Energy in a deal worth $9.6 billion.
The ongoing dispute between the Dongria Kondh tribe and Vedanta Resources highlights a broader standoff between industry and local residents.
Earlier this month, the government put a "stop work" order on another major venture in Orissa -- a $12-billion steel plant proposed by South Korea's POSCO.
http://edition.cnn.com/2010/WORLD/asiapcf/...J&wom=false
This is the power of Democracy. This tribe of only 8000 people make up only
0.00007 %
of India's population. The government gave up a 9.6 BILLION worth of project because it respected the rights of this very small...one could say even minuscule community. In fact the lost profit comes up to round 1.2 Million $ per head!!!.
In any other country, especially those with one-party rule; these people would have been simply uprooted and moved to another place; and the exploitation of their land would have commenced in earnest.
The real power of democracy is how it can reflect the rights/aspirations of this small minority even when seemingly insurmountable odds are stacked against them.
This is the power of an open democratic judicial system. Every human has and should have equal rights.Furthermore; the fundamental human rights cannot and should not be overlooked; however tempting the offer.
Some people derided Indian democracy as the main reason why it did not develop fast till the late 90s. These people are those who are willing to give up their "rights" for some cheap monetary gains. What is the worth of money alone when one cannot live as one liked in his very own land? Why should humans be subject to the rule of an un-elected government that treats them as nameless,faceless pawns in their "march" towards some Utopian future? who will speak for those who lived and died without a voice of their own? forever beholden to the "system" ? It was the democratic right to protest, the right to vote and the right for a fair legal system that is transparent and respects humans rights that allowed the Gonds to have their say.
Thus, the Real power of India resides in its democracy; the sole reason that democracy thrives in the most diverse nation of this world
. Even with the so called "growth retarding effect of democracy", India has been the second fastest growing economy in the world for more than a decade now...and is set to become the fastest growing economy in the 2011/12 time span. The story of these Gond Tribal people reflect the story of India too..in a way.
Because it is by listening and reflecting the desires and aspirations of even the most minuscule portion of the Nation; can a country achieve true greatness.
I salute these brave tribal people, and also the democratic system than allowed their victory. May you live in that land and preserve it like your ancestors did for millenia!