Let's open another thread to share stone scripts found in Suvarnabhumi (Khmer, Thailand, Laos, Burma etc)

Maybe we can find something interesting about Khom Varman who built stone temples in Cambodia and Thailand by reading stone scripts.

There are quite a large database of stone scripts with transcripts here.

http://www.sac.or.th/databases/inscriptions/th/main.php

I myself are particularly interested in the trace of Indian in the south, so let me start with this one found in Ta Gua Pa (Tagola), southern Thailand.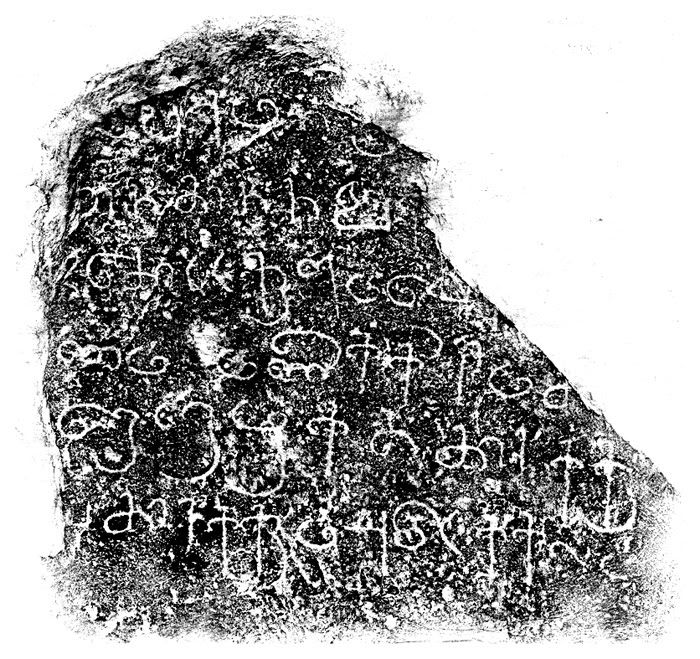 It's written in Tamil language and Tamil alphabets, expected building date is around 7th century.

And this is the translation (not complete) by German (Dr. Hultzsch) in English and Thai.
"The tank, (by) name Çr -(Avani)-N ra am, which was ī ā ņ
dug (near) Na g r by . . . ravarman Gu( a) . . ,(m) n ń ū ņ ā
himself, (is placed under) the protection of the members of
Ma igr man and of the man of the vanguard and of the ņ ā
cultivators".

สระชื่อศรีอวนินารณัม ซึ่ง................รวรมัน คุณ..............ได้
ขุดเอง ใกล้(เมือง) นงคูร อยู่ในการรักษาของสมาชิกแห่งมณี
ครามแลของกองทัพระวังหน้ากับชาวไร่ชาวนา.........


Do you see that "Varman" word in the script?


The link to the record of this stone script is here.
http://www.sac.or.th/databases/inscription...3&id_part=1

This stone script was found on a hill called "Narayana mountain" in Ta Gua Pa.

I believe that it's the same place with the one in this clip

http://www.youtube.com/watch?v=iJv2sUTngro