Paella Recipe (Spanish)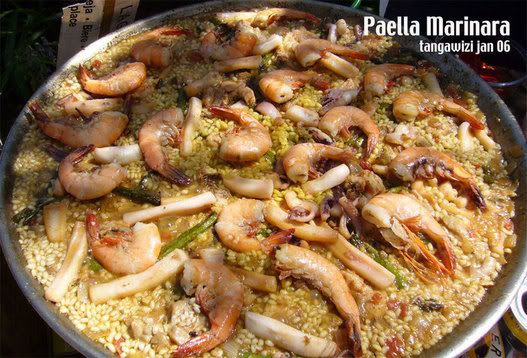 Ok here are some of the culinary works I have tried and tested. We had a paella fix 2 months ago in the garden.
The paella fix was for 10 pax as a starter but as main course, could probably feed 6 nicely. My paella pan diameter is around 40cm. We have a special stove that is for paella, the gas fire cooks the pan evenly. Wink
Here's the recipe
Spanish Paella recipe - Paella with seafood and chicken
You will need
3/4 kg of prawns, take out the prawn heads and dump into a stock pot
1 white meat fish (snapper, garoupa, monk fish), fillet the fish and throw the head and bones into a stock pot
8 pcs of chicken thighs de-skinned and chop to bite sized pieces
2 medium sized squid, cleaned and chopped into strips, throw the tentacles into the stock pot
3 cloves garlic minced
1 bay leaf
1 celery (optional)
1 spanish onion diced
a bunch of green asparagus cut into strips (can replace with 2 green peppers or a cup of cooked garden peas)
2 large tomatoes peeled, de seeded and chopped
500g short grain rice
1 1/4 litres hot seafood stock
large pinch of saffron - wrap the saffron with paper and toast it lightly over low stove fire until fragrance is apparent, then melt it in a little stock (make sure you don't burn the saffron, it's very easy to get burnt! Throw away burnt saffron!)
small roasted red pepper cut into strips (optional)
Firstly, to prevent panic, prepare everything prior to cooking.
1. To start, make the 1 1/4 litres of hot seafood stock by boiling the fish bone, squid tentacles, prawn heads with an onion, celery, bay leaf. Sieve the stock. (You can cheat by adding a fish stock cube to make a flavourful stock if you feel that your stock is not fishy enough)
2. Heat up the paella pan or large flat skillet (do not use wok for paella it doesn't work!) in high fire, (here's a trick) add a handful of rock salt to the paella pan and stir fry the salt on the pan for a few minutes and then remove the salt completely and throw away. Apparently this trick gives prevents the rice from getting burnt!
3. Now add some olive to the pan and fry the asparagus until tender. Then fry the headless prawns till pink and remove. Then fry the chicken pieces in olive oil to brown them and remove.
4. Now add to the pan the minced onion, garlic and the peppers and let them cook for a few minutes. Now add the squid and chopped tomatoes. Add a little more oil if required.
5. When the oil reappears on the tomatoes, stir in the short grain rice and allow to fry until the grains become a little opaque. Add the hot stock cup by cup and stir to distribute rice evenly. Add the browned chicken and saffron. Stir to mix well, then turn down the heat to minimum and leave alone - do not stir again, but occasionally shake the pan to prevent the rice from sticking to the bottom.
6. When the rice is almost cooked (taste the bottom layer and top layer rice), add the prawns and asparagus on top, shake the pan again. If the bottom layer of the rice is rock hard, then you need to add stock to keep it cooking. It's very tricky stage...
If bottom layer of rice is tenderish, but top layer is only slightly al dente (looking like the foto I posted above), do not add more stock in case the rice at the bottom explodes and becomes mushy. At this stage, when all the liquid has evaporated, you can juz turn off the heat and cover the paella pan with a sheet of newspaper and leave it to rest for 5-10 minutes.
Paella actually tastes more aromatic when eaten cooled so don't worry if you can't finish it, drink some more wine and eat spoonfuls later..
Serves 6.
Daikon and Salmon Pickle (Japanese)
Here's a Japanese recipe which I have followed from Yasuko Fukuoka of "Japanese Food & Cooking". She is also a good fren of Yoko Ono.
You will need a fat and short daikon : about 4 inch long with 2.5 inch wide diameter. Peel the skin completely, chop the top and bottom off so they are flat. Then slice very thin rounds of the daikon with a mandolin or a vegetable cutter like the way you slice thin potato crisps (rounded thin slices, not strips!).
Soak the thinly sliced daikon in a shallow container with 2 tsp of salt and 1 tsp of rice vinegar, and add a 2 inch square piece of dried konbu which has been snipped into 1 cm strips. Mix and rub the daikon gently with hands. Cover and leave in fridge for 1 hour.
The daikon will soak up the salt and vinegar, it's got high propensity to absorb flavors. Drain the daikon & squeeze out the excess liquid. The degree of saltiness will depend on the oriignal water content of the daikon, taste a little bit of daikon, and if it's still too salty for your taste, then rinse the daikon slices with running water for 30 secs, then drain and carefully squeeze out the excess liquid again.
Cut about 50gm of thinly sliced salmon into 1.5 inch squares. Taking once slice of the round dailkon, put on top of it a slice of salmon, then sandwich the salmon with another piece of daikon. Keep stacking up the daikon and salmon like this (like a tall hamburger) until all the salmon is used up. The quantity is just enough to make one stack of pickled daikon layered with salmon.
Now comes the wierd part. Place the daikon layered with salmon in a shallow container, cover, then leave to pickle at room temp for up to one day.
The next day, to serve, arrange the daikon slices with salmon one by one round on a plate, and sprinkle 1/2 tsp of white poppy seeds on top.. sounds yummy?
This is how they look like :