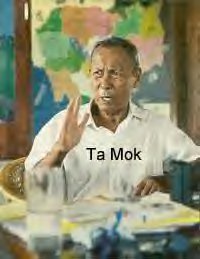 http://asia.news.yahoo.com/060802/kyodo/d8j88c4o3.html
Cambodian Prime Minister Hun Sen denied Wednesday he or the government was behind the death of former Khmer Rouge military chief Ta Mok, saying the death was "purely" caused by old age.
"Ta Mok was more than 80 years old. Would Ta Mok be wanted to live as an immortal person? No one is immortal," Hun Sen told a crowd of 10,000 people in Cambodia's costal Sihanoukville, 230 kilometers southwest of Phnom Penh. His speech was broadcast by state-run television TVK.
The premier made the remarks after hundreds of leaflets have circulated in recent days in Phnom Penh and in the country's northern province Pursat blaming Hun Sen for the death of Ta Mok and accusing the government of plotting to kill other surviving Khmer Rouge leaders.
He said the government had "no wish to close the mouths" of the former Khmer Rouge leaders, nor leave them unpunished.
"No others want to prosecute Khmer Rouge more than Hun Sen, and the ruling Cambodian People's Party," he said.
Ta Mok, 80, died July 21 at a military hospital in Phnom Penh and doctors cited old age, pneumonia and cardio problems as the cause of death ADVERTISEMENT
Ta Mok had been detained in a military prison in Phnom Penh since being captured in 1999 in Anlong Veng, a former Khmer Rouge stronghold near the Thai border.
Hun Sen said that instead of pointing fingers at the Cambodian government for the death of Ta Mok and asked why "such people" have not asked the International Court of Justice to account for the death of former Yugoslav President Slobodan Milosevic.
The premier said Slobodan Milosevic reportedly died of a heart attack during his trial.
The surviving senior Khmer Rouge leaders are Ieng Sary, Khieu Samphan and Nuon Chea. All three live freely in Cambodia.
While no date has been set, both Cambodia and the United Nations have stated their likely trials will take place sometime in the middle of next year.